Every other month the Westeros Pass will run for an entire month.
You can complete missions to gain Troop Appearance Shards and Commander Medals.
If Royal Pass is bought, also unlock Castle Exteriors and double the medal rewards.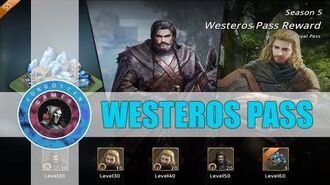 Every week multiple missions will unlock, granting Pass Points on completion. You can still complete missions of previous weeks once a new week starts.
The missions function just like the Active Reward and you unlock new levels every mission you complete.
New levels include a lot of common rewards but also commander medals, appearance shards, once you reach level 60 you can unlock a unique castle exterior, but only if you bought the Royal Pass.

From level 34 you have a chance to obtain Pass Coins. These can be spend in the shop for additional rewards, this even persists in season 5.
If you missed out on a castle exterior, you will find them for sale on later dates through Limited Sale.
Alternatively if you missed out on Barret you can still find him in the Westeros Pass Shop in Season 5+.
Community content is available under
CC-BY-SA
unless otherwise noted.