You can modify the appearance of your troops at the Barracks on the Troop Appearance tab. Apart from the cosmetic benefit, once unlocked, troop appearances grant you a permanent stats bonus (always active).
The effects range from straight bonuses to attack, defense, or health to rarer effects such as Rally size expansion or increased Hospital capacity.
To unlock appearances, you need to collect Troop Appearance medals from various events, for example Westeros Pass.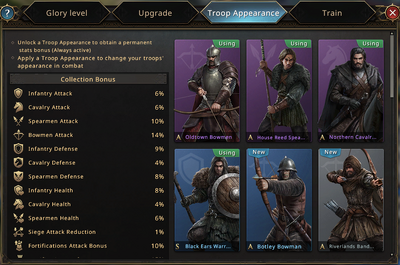 List of troop appearances
[
]
| Name | Unit Type | Source | Common effect | Uncommon effect | Rare effect | Epic effect | Legendary effect | Medal Tier |
| --- | --- | --- | --- | --- | --- | --- | --- | --- |
| Oldtown Bowmen | Bowmen | Elite rebel groups | Fortifications Attack Bonus 10% | Fortifications Defense Bonus 10% | Bowmen Attack 8% | Hospital Healing Speed 5% | Hospital Capacity +5%, Rallied Size Expansion 10k | A |
| Botley Bowman | Bowmen | | Bowmen Attack 4% | Fortifications Capacity 30k | Siege Attack Reduction 4% | Fortification Attack 15% | Enemy Army Attack Reduction 6%, Rallied Size Expansion 10k | A |
| Riverlands Bandit | Bowmen | | Bowmen Attack 6% | Siege Attack Reduction 6% | Bowmen Attack 8% | Hospital Capacity 5% | Health for Rallied Troops 6%, Rallied Size Expansion 10k | A |
| House Reed Bowmen | Bowmen | | Fortifications Attack Bonus 10% | Bowmen Attack 6% | Bowmen Attack 9% | Bowmen Attack 12% | Total Health 8%, Rallied Size Expansion 20k | S |
| Kingsguard Bowmen | Bowmen | Packs | Total Health 5% | Total Attack 7% | Total Defense 9% | Enemy Army Health Reduction 12% | Enemy Army Attack Reduction 12%, Rallied Size Expansion 50k | SS |
| Northern Cavalry | Cavalry | Westeros Pass | Cavalry Health 4% | Cavalry Attack 6% | Rallied Army March Speed 10% | Cavalry Defense 8% | Health for Rallied Troops 6%, Rallied Size Expansion 10k | A |
| Kingsguard | Cavalry | | Total Defense 5% | Total Health 7% | Total Attack 9% | Enemy Army Defense Reduction 12% | Enemy Army Health Reduction 12%, Rallied Size Expansion 50k | SS |
| Stormlands Rider | Cavalry | | Cavalry Defense 6% | Cavalry Attack 9% | Cavalry Health 12% | Cavalry Attack 24% | Cavalry Defense 21%, Rallied Size Expansion 20k | S |
| Runaway Cavalry | Cavalry | | Marching Speed 10% | Cavalry Health 6% | Cavalry Defense 8% | Cavalry Health 10% | Cavalry Attack 10%, Rallied Size Expansion 10k | A |
| Dothraki Rider | Cavalry | | Total Attack 5% | Total Defense 7% | Total Health 9% | Enemy Army Health Reversal 7.5% | Enemy Army Defense Rreversal 7.5%, Rallied Size Expansion 50k | SS |
| House Reed Spearmen | Spearmen | Westeros Pass | Spearmen Attack 4% | Spearmen Health 6% | Spearmen Defense 8% | Spearmen Attack 10% | Army Carrying Capacity 15%, Rallied Size Expansion 10k | A |
| Unsullied | Spearmen | Packs | Training Speed 10% | Royal Spearmen Cost Reduction 10% | Fervor Defense 12% | Fervor Health 15% | Fervor Attack 15%, Rallied Size Expansion 50k | SS |
| Gold Cloak | Spearmen | | Spearmen Defense 6% | Spearmen Health 9% | Spearmen Attack 12% | Spearmen Defense 21% | Spearmen Health 24%, Rallied Size Expansion 20k | S |
| Dornish Spearmen | Spearmen | | Spearmen Health 4% | Spearmen Defense 6% | Defense of Rallied Troops 6% | Training Speed 6% | Spearmen Attack 10%, Rallied Size Expansion 10k | A |
| City Watch of Oldtown | Spearmen | | Spearmen Attack 6% | Spearmen Health 9% | Spearmen Defense 12% | Health of Rallied Troops 6% | Spearmen Attack 15%, Rallied Size Expansion 20k | S |
| Furious Smallfolk | Infantry | | Infantry Attack 4% | Infantry Health 6% | Infantry Defense 8% | Infantry Defense 10% | Resource Protection 10%, Rallied Size Expansion 10k | A |
| Harrenhal Deserter | Infantry | | Infantry Attack 6% | Infantry Health 9% | Infantry Defense 12% | Infantry Attack 15% | Infantry Health 15%, Rallied Size Expansion 20k | S |
| Kingsguard Infantry | Infantry | Packs | Total Health 5% | Total Attack 7% | Total Defense 9% | Enemy Army Health Reduction 12% | Enemy Army Attack Reduction 12%, Rallied Size Expansion 50k | SS |
| Water Dancer | Infantry | | Total Health 5% | Total Attack 7% | Total Defense 9% | Enemy Army Defense Reversal 7.5% | Enemy Army Attack Reversal 7.5%, Rallied Size Expansion 50k | SS |
| Black Ears Warrior | Infantry | | Infantry Attack 6% | Infantry Defense 8% | Infantry Health 12% | Training Speed 10% | Rallied Army Attack 8%, Rallied Size Expansion 20k | S |