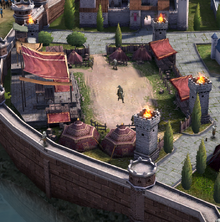 The Training Grounds building offers two minigames:
Training Grounds: Compete with other players of your kingdom. Battle your way to the top 1 and gain diamonds every 3 hours.
Expedition Beyond: Fight through 10 powerful opponents in a row to get materials for Equipment Refining.
Arrange up to six of your commanders into your army for this event.
You can set up one defensive formation and one offensive formation.
Defeat a higher-ranking lord to swap rank with them.
Blessing: Every week, a group of commanders get a significant bonus to their stats.
You can use City Affairs to blitz through the task in one click. You still need to enter the training grounds building to pick up the rewards.
Every day, you get 5 attempts to participate for free. You can purchase additional attempts per day for Blue Diamonds. Extra attempts are rarely cost-effective, but sometimes are needed to complete events or perhaps after a transnational relocation (see below).
| | |
| --- | --- |
| 5 initial attempts | free |
| Attempts 6-10 | 250 |
| Attempts 11-15 | 400 |
| Attempts 16-20 | 700 |
Warrior Reward: Every 3 hours, you receive a Blue Diamond reward based on your current ranking; ranging from 500 diamonds for the top spot to 10 diamonds for positions 4751-5000. Unclaimed rewards are accumulated.
Placement Prize: Every week, you receive a reward based on your current ranking equal to 5x Warrior Reward. Unclaimed rewards are kept for 1 week.
Events:
Several events require that you participate in training grounds.
In some cases, you also need to win. You can intentionally weaken your defensive lineup to drop rank so that you face easier opponents.
When you transfer your city to a different kingdom using transnational relocation, you lose your training grounds ranking.
Training Grounds are closed during KVK, however, you can use City Affairs to complete this daily task. This might not improve your rank, but counts for events, such as Active Reward or Eternal Glory. Also, you continue receiving Blue Diamond payment every three hours; try to improve your rank on the day before KVK.
Community content is available under
CC-BY-SA
unless otherwise noted.