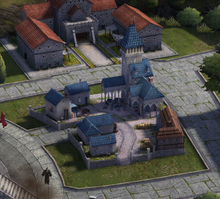 This building is mentioned in the upgrade of Castle to level 9 as an unlocked building/feature. To build a tavern, you must own at least 13 Commanders.
Tavern offers an alternate way of upgrading your commanders. Befriend your commanders by giving them gifts! Each commander has a favorite gift that grants them double friendship XP.
Gifts come from:
Friendship chests come from:
Benefits
[
]
In return, commanders will grant you benefits:
City building (Aptitude): Universal speed up
Economy expansion (Finance): Gold
Troop recruitment (Command): Random troops
Battle bonus (Combat): passive combat bonuses to health, attack, and defense
Army size bonus (Leadership): passive bonus to army size and rally size
You have to regularly collect the first three benefits (speed ups, gold, and troops) from the tavern; you receive one charge every 4 hours and can stack up to 3 times.
Level and familiarity
[
]
Each commander can increase two or three qualities (represented by one to five stars). Once you feed a commander enough gifts to gain a familiarity level, your ratings increase (for example, your speed up duration increases). The second level requires 50 XP, the XP requirements increase by 10 every level.
Your commander's familiarity level is limited by the color of your commander. To reach level 11, you need to upgrade your commander's color at least once; then again for level 21, etc.
| Level | Familiarity |
| --- | --- |
| 1-10 | Familiar |
| 11-20 | Friendly |
| 21-30 | Close |
| 31-45 | Intimate |
| 45+ | Faithful |
Video Guide
[
]
Check out the guide for all information about Elite Trials, Friendship and Gift Items
See also
[
]