Collect cards, trade them for fireworks, then shoot the fireworks. This event is essentially a continuation of the Anniversary carnival. This event is equivalent to the "Fireworks Carnival" event.
Cards
[
]
During the event, certain daily tasks have a chance to drop cards.
Events:
Gather resources
Help alliance members
Challenge Weirwood Trial
Attack Rebel Leaders
Cards: Daenerys Targaryen, Jon Snow, Cersei Lannister, Jaime Lannister, Tyrion Lannister, Arya Stark
You can trade the cards with your alliance members. In the Alliance chat, you will find an icon called Trade that allows you to set up a trade.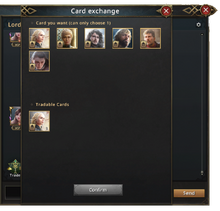 Fireworks
[
]
In the event screen, you can exchange a combination of cards for fireworks.
In designated times (every six hours for one hour), you can shoot the fireworks near the great cities. To do this, on the world map, click a square near a great city and select Set off Fireworks. This establishes a camp in that location and counts against your deployment limit. You can then click the camp and select the fireworks that you want to shoot.
Setting off fireworks gives you rewards: speed-ups, diamonds, race boots
Blue: 30 min speed up / 100 diamonds
Green: 200 diamonds
Yellow: 3h speed up / 400-600 diamonds / race boots 50%
Purple: 200 diamonds
Great cities competition
[
]
Setting off fireworks also collects festive points for your great city. On the event screen, click Set of Fireworks to display a list of great cities and their current festive points score.
city -> emissary
King's Landing -> Cersei Lannister
Winterfell -> Robb strak
Casterly Rock -> Jaime Lannister
Highgarden -> Margaery Tyrell
Eyrie -> Petyr bazlish
Sunspear -> Julien
Riverrun -> O'Biehn
buff:
Robb strak + Cersei Lannister + Margaery Tyrell = +10% expedition dmg
Cersei Lannister + Robb strak + Jaime Lannister = +8% training speed
Petyr bazlish + Margaery Tyrell + Robb strak = +300s free acceleration
Julien + O'Biehn + Cersei Lannister = +300s free acceleration
Cersei Lannister + Robb Stark + Julien = +5% training speed
Cersei Lannister + Robb Stark + O'Biehn = +5% marching speed