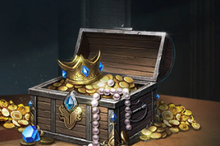 Game of Thrones Winter is Coming celebrating their 1 year existence, they come out with a special large event.
Participate in the various Anniversary events to get great rewards! The event takes 22 Days and consists out of 5 stages:
Video Guide
[
]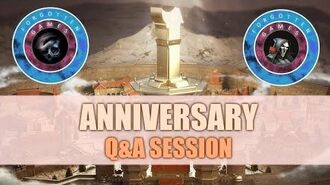 Memory Corridor
[
]

This event takes 10 days, obtain tons of rewards with doing daily chores! Daily chores consist out of the following missions:
Get from Gathering Sites (10)
Attack Rebels (10)
Alliance Help (10)
Get from Weirwood Trials (20)

Every 5 Memory Pieces you can donate you get one of the following rewards:
Unlocking more rewards will grand you points towards a timeline consisting out of many unique rewards. including parts of lore and a Time Capsule, as well as the following:
Story Chapters
[
]
Heart of an Empire - King's Landing, the capital of the Seven Kingdoms. The city is located on the east coast of Westeros and overlooks the Blackwater Rush. The Red Keep inside the city contains the Iron Throne - the symbol of ultimate power and glory to the many Lords and Ladies on Westeros.
Eve of Conquest - Ordered by Aegon the Conqueror, the Painted Table was carved and painted in the form of a detailed map of Westeros. On this table, Aegon and his advisors planned their invasion of Westeros.
Dragon's Awakening - After their long extinction, Daenerys Targaryen managed to hatch 3 dragons, Drogon, Rhaegal and Viserion, in Khal Drogo's funeral pyre. The Dothraki sea had witnessed the birth of 3 dragons in the last 100 years.
Army of the Dead - The undead, created by the dark arts of the Night King. This unstoppable army of wight commanded by the Night King's White Walkers threaten to destroy all living things. They are the true enemy of realm.
Time Capsule
[
]
Please write down what you want to say to yourself next year. The message will be sent to the private message by the system next year. 
Anniversary Total Recharge
[
]
This event takes 5 days. Recharge up to 2,000 Black Diamonds to obtain a great number of rewards
10 Black Diamonds:
50 Black Diamonds 
150 Black Diamonds 
300 Black Diamonds 
500 Black Diamonds 
1,000 Black Diamonds 
1,500 Black Diamonds 
2,000 Black Diamonds 
You can donate every 50 Memories you spend to recieve great rewards including: 
Vault of Dorne
[
]

Select 10 rewards on 3 different lists to create an exclusive reward list. You can create a new list after obtaining all rewards on the previous.
Every reward costs 1 Big Treasure Key for 10 black diamonds.
You can select the following rewards:
Normal Treasure (4):
Epic Treasure (4): 
Legendary Treasure (2): 
After selecting the 10 rewards, press confirm and use the keys to open cards. However the keys used will be counted towards the next keys needed. You can reset these every day.
Anniversary 100% Rebate
[
]
Free Anniversary Carnival! Return the same amount after the event [Black Diamond Coupon].
Time is Money: Return 50 
Rising Dragon: Return 100 
Ultimate Defense: Return 1,000 
Moments of the Year
[
]
Login every day to get an unique reward for 10 days.
Each player unlocked 15 commanders on average
Elite Scorched Earth 8-9 has been the most difficult stage, only 15% of the people passed this stage last year
Players initiated expeditions against Rebel Leaders 128,871,288 times, and killed 101,095,319 Rebel Leaders so far
The day of december 8, 2019, has witnessed the most fierce War of the Kingdoms. The number of deaths and injuries of all kingdoms is 16,667,123,798
The highly anticipated Alliance Conquest attracted more then 70,000 players and 2,000 alliances to join during the testing season.
You can receive a report card with data and your personal keyword. feel free to drop your personal keywords in the comments. *note Rank in training ground claims it is 60, while I reached rank 1 multiple times, assuming it too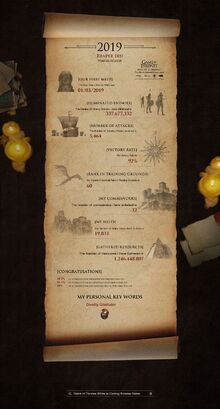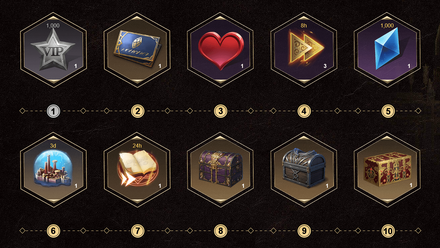 Anniversary Carnival
[
]
Completing card collections to exchange for fireworks. Set the fireworks near the 8 great castles to grant bonuses to all players on the server. 
Tasks
[
]
Get from gathering sites (15) 
Attack Rebel (15) 
Alliance Help (20) 
Get from Weirwood Tree Trials (20)  
Trading
[
]
You can trade cards through the chat system by starting a personal conversation with players.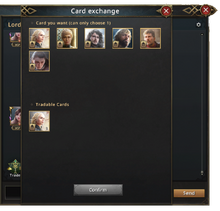 Firework Sets
[
]